So happy to be linking up with Jana & Steph today for Show us Your Books!!! It feels like it's been ages since the last link up and I can't wait to check out the books that everyone has been reading. I've shared a few reviews here and there over the past month, but this post is still pretty long because I basically did nothing but read and be a hermit in January. Click to the end to see a basic TL;DR about all these books. Haha 🙂
ABSOLUTELY AMAZING BOOKS


The Great Alone by Kristin Hannah
My rating: 5 of 5 stars
I talked about this book more here, and all I really have to say is that this book was excellent and deserves all the hype it is getting. It was so well done.
Thank you so much to Netgalley and St. Martin's Press for the review copy of this wonderfully exceptional book. 🙂 It will stay with me well into the future.






Last Christmas in Paris: A Novel of World War I by Hazel Gaynor
My rating: 5 of 5 stars
This book was all over my Instagram feed in December and I had heard so many good things about it. The cover is also gorgeous and the premise was appealing to me, but I was reluctant to pick it up when I finally got it from the library in January (did I want to read something Christmassy after just packing it all up?!) Don't let the title sway you – this book has a lot of mention of Christmases over the years, but it's not specifically related to Christmas in any strong way. This book reminded me so much of another book I loved, The Guernsey Literary and Potato Peel Pie Society except that the individuals writing letters were already friends so they spoke of shared history. The literary references and insertions of Shakespeare's works and other poets etc was wonderful, and I loved the way the story unfolded (even though I did guess at some of it – it was predictable, but I didn't mind one bit).
This story reminded me of what it feels like to write and receive letters, which is a bit lost these days and something I would like to get back into this year. The characters in this novel are fun, strong, and real. The cast isn't as large as in Guernsey, but I liked the focus on the two main characters and their family/friends as side characters. I can't stop thinking about how much I enjoyed this book, hence the 5 stars. This book came to me at exactly the right time and I am so happy that I picked it up.
A Perilous Undertaking by Deanna Raybourn
My rating: 4 of 5 stars
Oh, I just love these characters. They are SO fun to read about, and quite humorous. Although I predicted the ending to this mystery, I still really liked this book and there were a few twists and turns. This is some of the most entertaining historical fiction I've read for sure.





Followed up by:

A Treacherous Curse by Deanna Raybourn
My rating: 4 of 5 stars
WOW. I am absolutely in love with this series. I found this one to be the quickest read of the three – I absolutely couldn't quite put my finger on what was going on in the mystery. Stoker and Veronica were amazing as always in this third instalment and their chemistry just HAS to pay off at some point! I am already highly anticipating the next in this series – I HOPE IT IS SOON!!!
Thank you to Berkeley Publishing and Netgalley for the advanced review copy of this book which came out in January.
My Grandmother Asked Me to Tell You She's Sorry by Fredrik Backman
My rating: 4 of 5 stars
This audiobook was excellent. I love Elsa's character so much, and the entire cast of characters is quite fun. Elsa's love for Harry Potter might have predisposed me to loving her right from the very beginning, but this whole book was just so well done. The mysterious aspects, the family ups and downs, and the true emotion here were so evident (particularly on audio, I think) and I am a Backman fan forever and ever. He has not yet written something that I didn't enjoy immensely. (Read for Erin's challenge: book written in another language)
From Lukov with Love by Mariana Zapata
My rating: 4 of 5 stars
Kristen sent me a message when she found out that this book was out, and I promptly downloaded it immediately and read it until I was done. I really love Mariana Zapata's books, and this one was particularly fun as a lead up to the winter Olympics when figure skating is featured a bit more prominently in the world in general. These characters were wonderful and I really really loved this book. Dear Aaron is next on my list by her after reading about some of those characters in this book.
Still Me by Jojo Moyes
My rating: 4.5 of 5 stars
Oh, it was so wonderful to read about Louisa Clark again. And Ambulance Sam. And a bunch of new entertaining characters. This was so, so enjoyable. Me Before You was absolutely sensational and a 5 star read for me. Unlike many others, I actually quite liked After You on its own. Still Me was better than After You and in some ways it felt like more of a continuation of Me Before You. There are some fun snippets of Will Traynor in this one. Louisa comes into her own in some ways. I love her as a character and I had forgotten that. I appreciate JoJo Moyes' writing and need to get at her backlist soon. (In particular, The Girl you Left Behind is sitting on my shelf unread).
Greenglass House by Kate Milford
My rating: 4 of 5 stars
It took me a little while to get into this book, but the audio version was really very well done and I eventually could not wait to find out what happened at the end. The setting and the cast of characters were really interesting and unique and the story unfolded in a fun way. I can't wait to share this one with my children in a few years – perfect middle grade book, in my opinion.



Enjoyable enough :


Dating You / Hating You by Christina Lauren
My rating: 4 of 5 stars
This book reminded me quite a bit of The Hating Game, but there was a bit less angst. It was super cute and very funny – it was interesting to get a bit of a fictional inside look at the life of a Hollywood agent.
The Snow Child by Eowyn Ivey
My rating: 3.5 of 5 stars
Winter is the perfect time to read this book, as I'm sure many readers would agree. At first, I wasn't sure how much I liked this book – it seemed sad, and difficult to read during January. However, I stayed with it and really did end up liking it. I'd say it's more of a 3.5 star rating but rounded up to 4 due to the lovely writing and interesting setting. This is ultimately a story of hope, growth, and belief. The magical realism and snow girl character made this really fun, and I really liked all of the other characters too.
Meet Cute: Some People Are Destined to Meet by Jennifer L. Armentrout
My rating: 3.5 of 5 stars
I talk about this book more here. My favourite short stories were: Click by Katherine McGee, The Dictionary of You and Me by Jennifer Armentrout, and The Unlikelyhood of Falling in Love by Jocelyn Davies.
The Beau & the Belle, The Duet, and The Design by R.S. Grey
My rating: 3.5 of 5 stars
These books were super easy to read and they passed the time just fine. I love curling up with one of R.S. Grey's books on the weekend and just passing an evening with some smiles and the knowledge that a happily ever after moment is coming. It's like watching a romantic comedy in book format, and I love it. Overall, they didn't have quite the depth that I seek out in some books, but they were funny and the characters were great. The Duet was probably my favourite of the three of hers I've read so far and I talk about The Beau and the Belle more here.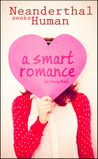 Neanderthal Seeks Human and Truth or Beard by Penny Reid
My rating: 4 of 5 stars
Penny Reid's books are VERY funny. I read the first in each of these series and like R.S. Grey's books, these pass the time sooo nicely. In particular, in Neanderthal Seeks Human, Janie is a one of a kind character, and so much fun. I will slowly read the others in this series although they're not at my library so I am keeping an eye on kindle deals.
Not recommended overall:


The Secret Diary of Lizzie Bennet by Bernie Su
My rating: 3 of 5 stars
This wasn't my favourite Austen adaptation. I've heard that it does follow the Youtube series pretty closely. It's funny because in some ways it felt similar to Eligible, which I loved, but I think it lacked the humour of that book…or something. Anyway, it wasn't too bad but I am off Austen retellings for a little bit after this one. (probably until next week or something – haha). Read for Erin's challenge: book with a person's name in the title.






As You Wish by Chelsea Sedoti
My rating: 2.5 of 5 stars
The premise for this book is quite captivating and unlike anything I've read before, so I was initially quite taken with it. I read the first third of it quite quickly and was anxious to find out what happened. However, Eldon's character soon got pretty old and he never seemed to do much. He was also so angsty and difficult to read about. I will say that the author strung me along quite nicely in that I wanted to keep reading to find out what his wish was – and what others had wished for – but overall, this book wasn't quite as good as I expected it to be. The ending did redeem it in some ways, and this might be better received in its target YA audience but for me it was a bit of a flop. Freebie for Erin's challenge.
If you've read this far – yay, thank you!!!

TL;DR – I highly recommend The Great Alone, Last Christmas in Paris, From Lukov with Love (if you like romance), and Deanna Raybourn's Veronica Speedwell series as well as all of Fredrik Backman's books. 😉 Still Me was wonderful too.
Currently reading in some capacity: The Shadow of the Wind (loving it on audio), Brown Girl Dreaming (almost done on audio), and Homegoing. <–taking my time with that last one and have taken it out from the library 4 times now :S Needing to start another Netgalley book too. I tried Ensnared last week and had to take a major pause – might be a DNF but I hate to do that with ARCs.
What have you been reading lately? My Netgalley shelf and my library holds are both exploding but I'm trying to keep up OR just let some go until later. Too many books, too little time!!! 🙂