Happy December Reading Day!!! I read a wide variety of books this month and I can't wait to chat about them!! Also looking forward to sharing my top books of the year later this month on Boxing day DEC 26 🙂 Check out the link up with Steph and Jana today and see what everyone's been reading this month – you might even get some great gift ideas or something to curl up with over the holidays 🙂
Kingdom of the Blind by Louise Penny
My rating: 4.5 of 5 stars
I loved this, and it is a solid 4.5 stars for me. I didn't love it QUITE as much as her previous two books, but I think I am just generally a bit more distracted in my reading life at this time of year (mid-December) and it felt easy to put this down at times, which is rare for me when I'm reading this series. That being said, I still really loved this. The world she has built and the characters are phenomenal. The characters absolutely made me laugh out loud several times while reading. The mystery here was interesting as was the leftover stuff from Glass Houses. I NEED the next book now, which is killing me because I am sure it will be at least a year from now…
Harry Potter and the Prisoner of Azkaban by J.K. Rowling
My rating: 5 of 5 stars
In so many ways, this might be my favourite of the series. It's serious, but it's not as intense as the last four (I also adore Goblet of Fire until the end…)
Reading this aloud to my family was such a joy though. I forgot how GOOD this one is. My daughter was dying wanting to know who sent Harry the Firebolt and trying to figure out what was going on with Crookshanks and who the black dog was…her mind was blown at the end and it was difficult to answer some of her questions about the last couple of chapters.
I'd forgotten how great the quidditch is in this book too – the matches were so good and interesting and awesome! I forgot about some of the best characters too who really play big parts in this book.
Reading these first three books this fall to my family has been incredible but I'm resolute in waiting a few years until my 7 year old can handle the last 4 books in the series which are much darker and more complicated.
PS: I read the last 8 chapters of this book in one day and nearly lost my voice. I forgot how intense the ending is – and I totally remember now why I sat in a corner finishing this book in the hours before Y2K at a party with my family instead of "partying" (age 14 ;)).
Harry Potter and the Chamber of Secrets by J.K. Rowling
My rating: 5 of 5 stars
This book has a lot of fun Harry Potter moments – finding out about Parseltongue, Ginny as a character, the Polyjuice potion, and of course, quidditch and all the interesting classes. Though this has never been my favourite in the series, talking it over with my daughter definitely led me to realize a lot of the foreshadowing that happens in this book for later in the series, and I appreciated that about it! The illustrated copy is gorgeous, of course.
Nine Perfect Strangers by Liane Moriarty
My rating: 4 of 5 stars
I really enjoyed this – I've loved all of Moriarty's books. This one doesn't take the place of my top book by her (What Alice Forgot) or my most intense reading experience ever, also by her (Big Little Lies)…but it was still very good. I really enjoyed all of the characters and their humanity. It was an interesting premise and quite well written. Definitely a page-turner in a non-traditional way.
And Then There Were None by Agatha Christie
My rating: 4 of 5 stars
This was really intense and creepy and so well done on audio. I definitely had no idea how it would all play out until the end. It was also super weird to be simultaneously listening to this and reading Nine Perfect Strangers at the same time – they are sort of similar in that they both have groups of people thrust together and no one knows what exactly is going on, though one book is a bit more fatal than the other…
The War I Finally Won by Kimberly Brubaker Bradley
My rating: 4 of 5 stars
4.5 stars – I really loved this book. It was almost as good as the first…might even have been better. The narrator, in particular, was fantastic. Ada is such a wonderful character and this was so well written and lovely. (middle grade historical fiction)
Take Me with You by Catherine Ryan Hyde
My rating: 5 of 5 stars
I've heard this book raved about by a few different people and it never seemed like the right time for me to try it, but I don't know why I felt that way. This is truly a book for everyone. It was so good. Heartfelt, interesting, and appealing in a way I didn't expect. It actually did remind me a bit of Pay it Forward (I haven't read the book yet but the movie, at least). There is some definite sadness and emotion here, but SO much hope.
Fatal Affair by Marie Force
My rating: 4 of 5 stars
Wow, this was a fun start to a very long series. This reminds me a bit of James Patterson's Women's Murder Club series and a touch of Sandra Brown (without the OMG twist component). Looking forward to continuing with this – if you enjoy police procedural type books with some romance thrown in, this might be a fun one to try.
Winter in Paradise by Elin Hilderbrand
My rating: 3 of 5 stars
Once I got into this book, it began to drive me crazy because it reminded me so much of another book or movie or TV show – I still can't quite place it, but it was a weird experience! I liked this enough and tore through it pretty quickly – I will for sure continue with the series after the cliff-hanger ending in this first book. (This for sure does not have to be read in the winter unlike her "Winter" quartet which feels more Christmassy and wintery)
Kiss Me at Christmas by Valerie Bowman
My rating: 3 of 5 stars
This was a cute historical romance and I look forward to continuing with some others in the series. It was definitely quite Christmassy at times which was nice too 🙂 Thank you to Netgalley and St. Martin's Press for the ARC.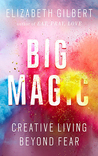 Big Magic: Creative Living Beyond Fear by Elizabeth Gilbert
My rating: 3 of 5 stars
I listened to this in one day. I really enjoyed a lot of Elizabeth Gilbert's anecdotes and I found this book inspirational though it might not change my entire life. It definitely inspires me to just give things in my creative life a shot even if I'm not sure how important they will be or how much I'll "change the world". I especially loved her story about her Amazon story and Ann Patchett – super fascinating!!! There is a lot here if you have any dreams to be a writer, but I think this could really apply to anyone with some desire to "create" in any way. I find her life generally interesting even though I've never read Eat, Pray, Love. 🙂


A few other books I read or am reading this month: Professor Feelgood (loved this one, maybe even more than the first), A Gentleman in Moscow (almost halfway through this), Crenshaw with the kiddos, and Lauren Layne's books 🙂
TL;DR – I will always and forever recommend Louise Penny's series – they start to really pick up around A Reason for Murder, imho, but they are best read in order. I know people have started at book 4, fallen in love, and then later gone back – so that's an option too! 😉 The last 5 or so have been unbelievable. Of course, I recommend Harry Potter especially as a family read-aloud 😉 but for other less obvious choices, I recommend Take Me With You, Nine Perfect Strangers, And Then There were None, and Fatal Affair.
What have you been reading lately?! How are you doing with your 2018 reading goals? I am 11 books away from my goodreads goal of 200 books!!