It's time for another link up with Steph and Jana for Show us Your Books! When I went to write this post and remind myself of what I've read lately on Goodreads, it seems like a lot of time has passed since the last link up…and there is always a book or two that I've forgotten that I read. Happy summer reading, friends!! I love it!! Can't wait to browse all the posts and add to my summer/fall TBR list.
Here are the books I really loved and recommend this month:
A Better Man by Louise Penny
My rating: 5 of 5 stars
Obviously, I loved this, because I adore this series. I can't recommend this one without telling you to start at the beginning and unfortunately, expect the books to get INFINITELY better around book 4. I squealed with delight when I got an ARC of this much-anticipated book because there were no arcs for her last book!! This book felt more like "coming home" to Three Pines than others, and I was so pleased with that. I won't say much more about it, since it's hard to recommend book #14 in a series, but trust me, these books are amazing. I will say that Louise Penny's writing in this novel felt like I was sitting down among friends. The main character, Gamache, is at his best in so many ways here and such a character to look up to in times of uncertainty. I don't know how she does it, but I'm so grateful that she does. Fans of the series will love this new addition.
Thank you from the bottom of my heart to Edelweiss and St Martins Press/Minotaur for the ARC of this book (comes out August 27).
Somewhere in France by Jennifer Robson
My rating: 4 of 5 stars
I described this to a friend as a less-sad read-alike to Last Christmas in Paris: A Novel of World War I. The characters in this book are wonderful, and there were many lines that I re-read because it was beautifully written. The love story is war-based and lovely and it was all just so highly readable. It's the first in a series, so I can't wait to get to the rest sometime.
Castle of Water by Dane Huckelbridge
My rating: 4.5 of 5 stars
This book seemed to be extremely widely recommended by some of my online friends about 2 years ago and my library did not acquire it so I purchased it and then it sat on my shelf for 2 years. I did have the ending spoiled for me, so that made me a bit more reluctant to pick it up, I think. However, after finally deciding to check out the very short and extremely beautiful narrated version on Hoopla, I can see the hype around this book. It is so wonderful and these characters will stay with me for a long time. I loved so much about this. I don't want to say much more about it but trust me when I say it is worth the time. Also, if you happen to speak a little French, you will enjoy that part of this book – one of the main characters is Parisian and the other is American, so it is funny reading them (or listening to them, in my case!) chat. Don't let that hold you back though if you know NO French. Just an aside 🙂
The Overdue Life of Amy Byler by Kelly Harms
My rating: 4 of 5 stars
This book came recommended on a podcast that I love, and then the cover won me over, and Netgalley was kind enough to provide me with a free review copy so I was excited to read it. It was SO good!! There were some VERY funny moments. It was definitely slightly predictable at times but not too much, in my opinion. I definitely did not know how it would all end up.
The basic premise of the story is that Amy Byler, SAHM turned private school librarian, who was left unexpectedly by her husband for three years, runs into said husband at the supermarket and he wants to be back in his teenage children's lives. As a do-it-all amazing mom forced reluctantly into single motherhood overnight, Amy is hesitant and angry at her (still) husband and wants to refuse him. Then, she searches for library conferences to attend and finds one nearby in NYC and decides to go on her own for the week.
Her children are fabulously wonderful and so fun to read about and she is exactly the kind of mom (in many ways!) that I would love to be, so I saw myself in Amy in many ways. Her daughter writes her letters in a journal throughout their time apart and those lines were some of my favourites in the book. Can't recommend this book enough for a lighthearted and enjoyable summer read with a splash of romance, some great friendships, and some fun family moments. Thank you Netgalley and Lake Union publishing for the complimentary digital copy of this book in exchange for an honest review. And thank you Kaytee, for recommending this on Currently Reading!!!!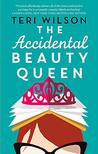 The Accidental Beauty Queen by Teri Wilson
My rating: 4 of 5 stars
I saw this book on a summer reading list, instantly put it on hold at the library and then promptly forgot completely what it was about until I picked it up a week or two later. Since I'd forgotten why I requested it, I sat down to read the first page and basically read the rest of the book in one or two sittings after that. It was SO much fun to read. Note: this book was basically tailor-made for me to love because the main character is intensely obsessed with Harry Potter and Jane Austen and can basically become my best friend anytime now.
The premise here is a bit cheesy, and this book is a bit shorter than I may have liked, but it was just so fun and cute and humorous and did I mention fun??? One twin is a beauty queen and she develops a severe and acute allergy so since her twin sister is staying with her, she asks her to step in and compete in her place – just for the preliminaries. This leads to hilarity and some awkwardness and some self-realization along the way.
"Passed the Time Just Fine"
The Rosie Result by Graeme Simsion
My rating: 4 of 5 stars
Not quite as good as the first, still, but better than the second. I would say I feel similarly about this series as I do with the Me Before You trilogy (though they are absolutely nothing alike). I loved the first book and it was mind-bogglingly unique/interesting to me – I didn't mind but wasn't as in love with the second books, and the third books brought things around and tied it up nicely. ANYWAY, more about this book – I loved watching Don and Rosie as parents. I laughed out loud at some of Don's thoughts and things he said, as before. He really is such a fun character to read. His and Rosie's son, Hudson, was great too as were the parents they interact with and Don's friends from the previous books. This one was set back in Australia, so that was fun too. Most of the plot focuses on parenting Hudson and is he like Don and how can Don work on the Hudson Project? It has a heartwarming ending and a lot of great moments. It took me awhile to get into and continue, but I did still really enjoy it.
Thank you to Text Publishing and Edelweiss for the ARC of this book.
View all my reviews
Burnout: The Secret to Unlocking the Stress Cycle by Emily Nagoski
My rating: 3 of 5 stars
I had high hopes for this book, and while a lot of it was definitely interesting, some of it was a bit too much common-knowledge for me. Then again, I have two degrees in psychology, so it might not be common knowledge for everyone? I'd recommend listening to this podcast episode if you are interested in this instead of investing in the whole book. I did really enjoy the format and the anecdotes and it was very interesting, but it just didn't change my life quite the same way others said it did for them. Maybe I'm not burned out enough:)
Inheritance: A Memoir of Genealogy, Paternity, and Love by Dani Shapiro
My rating: 3 of 5 stars
I had heard amazing things about this book and it was definitely fascinating – more so than I expected it to be. I listened to it and it is read by the author – it was quite quick and thought-provoking but not earth-shatteringly good, in my opinion.
Ayesha at Last by Uzma Jalaluddin
My rating: 3 of 5 stars
It took me a little while to get into this book, partially because of the characters, and partly because of the pacing. However, once I got mid-way into it, I had no issues with it sustaining my interest. I actually found it easier to enjoy this once I removed the P&P comparisons from my mind because it is far from a direct retelling. There are certain minor similarities, but not throughout, and I got myself a bit confused trying to figure out who each character was supposed to be from P&P.
Overall, this story was interesting and absolutely opened my eyes to one perspective of the Muslim community in Toronto (fictionally, of course). I liked the ending, enjoyed some of the minor characters, and hated the ones you're not supposed to like..it just wasn't my favourite. Thank you to Edelweiss and Berkley for the ARC of this book in exchange for an honest review.


The Printed Letter Bookshop by Katherine Reay
My rating: 3 of 5 stars
This book took me a while to get into, and I didn't love parts of it, but it won me over by the end. I'm no stranger to bookshops as settings in books these days; it is a very popular theme lately. While this one wasn't my favourite of these types of books, I did begin to really feel for the characters and root for their success by the end of the book. I just didn't emotionally connect with the characters as I maybe thought I could have.
Thank you kindly to Thomas Nelson and NetGalley and Edelweiss for the ARC of this book. The opinions expressed in this review are completely my own.

Romance Reads:
Just One of the Groomsmen by Cindi Madsen
This is an adorable best-friends-fall-in-love contemporary romance that I highly recommend!! It was funny and fun to read, and the first in a series.
Thank you to Netgalley and Entangled for the ARC of this cute romantic comedy in exchange for an honest review.





The Bromance Book Club by Lyssa Kay Adams
My rating: 4 of 5 stars
When I first read the concept behind this book, I laughed and thought it was awesome. A men's book club that reads romance to understand women better – I mean, it is very funny! A bit unrealistic, maybe, but that's what fiction is all about 🙂 I was right with my initial feelings; there are some very funny moments in this book.
Parts of this were highly relatable, and it was so refreshing to read a book about a married couple working on some real issues. It didn't feel overly angsty, the issues felt real, and it was interesting to have some insight into how someone's "backstory" and the road to marriage can impact the relationship down the road.

Thank you to First to Read and Edelweiss for the arc of this book in exchange for an honest review.

I also read Meet Cute and Unexpected, neither of which I am able to truly recommend though if you were to choose one, I would recommend Unexpected over Meet Cute. Helena Hunting's writing just might not be for me.
C