Happy Friday, and happy long weekend to my fellow Canadians!!! HAPPY CANADA DAY!!! This is my favourite holiday of the year (probably tied with Christmas though) and I can't wait to celebrate our beautiful country by camping in a national park in the rain this weekend. LOL. (Cross your fingers for us that it will not rain!)
Today I'm happy to share the second post in a blog collaboration with Gina, Anne, Rachelle, and Kristen!! Here you'll find 14 audiobook suggestions for a road trip (or for whenever really – I love listening to audiobooks all the time). Guys – you know I am hooked on audiobooks. I loved them as a kid, and I wish I had thought to use them more in university (especially for my Shakespeare course). I rely on them heavily these days to get through my TBR. The first audiobook I got on a free audible trial and listened to and got SUPER HOOKED in the past 5 years was The Martian – I still highly recommend that one but most people I know have read it.
A bunch of these are on Hoopla and if you haven't tried out that app yet via your library, I can't recommend it enough (mostly for audiobooks – I don't love their interface for e-books). You get the book instantly and get it for 3 weeks! I get 5 books a month via my library and usually use up all of those "credits".
I absolutely loved this book. I am familiar with The Odyssey and studied it briefly but have not read it so I wouldn't say you need to know any of that to enjoy this. This was so fascinating, so captivating, and so much more likable than I ever could have expected. It could definitely be family friendly with older teenagers too, based on what I remember.
When Breath Becomes Air by Paul Kalanithi
This book was absolutely gripping and so heart-wrenching. The stories that Paul shares are inspiring. His views on life and death are so interesting and this book really made me think. The epilogue led to tears streaming down my face while driving. It was an incredible read and I would highly, highly recommend it. Just maybe not when driving through the city when you need to be able to see through your tears. 😉
Castle of Water by Dane Huckelbridge
This audiobook is on hoopla and the narrator is FANTASTIC. I loved it. The two main characters are American and French, and the French parts were so well done (it all was, but that in particular). It's also pretty short. I hesitate to say much about this book because the ending was spoiled for me and I'd hate for that to happen to others…although there are some trigger warnings, in my opinion.
I enjoyed the full-cast performance of this audiobook immensely. The story itself was also very good and I liked it a lot. Katsa and Po were great characters, and the whole Graceling realm is very interesting. I would absolutely consider this to be an "approachable" fantasy book if that's something you're interested in. It is also on Hoopla and would be family friendly for older kids, I think – it's YA but there is some romance too.

A Share in Death by Deborah Crombie
I keep meaning to continue this series past the second one because it's really good on audio and also (again) on Hoopla. This was a mystery that I couldn't quite figure out. LOVED the characters though and the British setting (always a plus for me in my reading life – give me a book set in Britain and I'll usually be a bit drawn to it for some reason).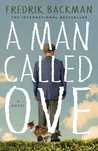 A Man Called Ove by Fredrik Backman
I adored every little bit of this book, especially on audio. I do have a slight thought though that maybe this is a good book to listen to in the summer. I sent it to both of my grandmothers after reading it, thinking they would also love it, and one of them did adore it – the other found it too depressing for the winter months when she is living alone. There are some sad aspects to this book, but it is ultimately hopeful, funny, and thought-provoking, in MY opinion. And again, it's on Hoopla, so what are you waiting for?!
A Study in Scarlet Women by Sherry Thomas
This super fun Sherlock retelling with Sherlock as a woman was so fun to listen to, and it's the first in a series!! It reminds me a little bit of the Veronica Speedwell books, which I adore. It's on Hoopla too 🙂
It's pretty much impossible for me not to mention this Canadian gem of a series – one of my most beloved series of all time!! The narrator for the first 11 books of the Chief Inspector Gamache series is quite wonderful. This first book seems to be on hoopla. I really believe this series needs to be read in order but the books get infinitely better around book 4. Most Louise Penny fans would agree with this statement. I have listened to bits and pieces of all of the books via the library but mostly read them in print. Still, I can vouch for the audio and I know a lot of fans who prefer the books this way! Her writing is quite lyrical so it lends itself well to audiobook format. The first in the series (this one) is on Hoopla 🙂
Born a Crime: Stories from a South African Childhood by Trevor Noah
This audiobook, narrated by the author, is so well told and beyond interesting. Trevor Noah makes his childhood humorous, and I would highly recommend this book if you are looking to just get a different point of view on what it might have been like to grow up in a country very different from any in the western world.
A few books for the whole family (all ages):
The Original Adventures of Hank the Cowdog by John R. Erickson
We listened to a bunch of these books on summer road trips when I was a kid and years later, the narration is still JUST as enjoyable. So funny and fun to listen to, even as an adult.
Pippi Longstocking by Astrid Lindgren
I listened to this as a kid and listened again on a recent road trip with my kids and we all loved it.
So here's a little story. I read this as a kid, loved the movie, and then went to read it to my daughter a couple of years ago and found the language REALLY HARD TO READ. It is wacky!!! The audiobook is the way to go with this one. I've previewed the Kate Winslet version and that one is on our list for this summer. I expect it to be wonderful and then we will watch the movie as a family 🙂
For the whole family maybe ages 8+


Anne of Green Gables by L.M. Montgomery
This is one of my favourite books of all time and Rachel McAdams' narration is absolutely fantastic. I absolutely adored this on audio. It is appropriate for any age but the ending (no spoilers) might be a bit hard for anyone younger than about 6-7-8 and the language is that of a classic, so maybe best suited for not the earliest listeners.
Book Scavenger by Jennifer Chambliss Bertman
The concept of this book is wonderful – it is basically about a game that involves geocaching using books. It sounds super fun. The setting and characters in this book are great and although the mystery part of it might be a bit scary for younger readers (I was definitely a little surprised at how intense things got towards the end), it all works out. I intend to continue the series!!

Any audiobooks to add?!? Do you like reading with your ears, or are they just not for you? I just finished listening to Becoming, which is narrated by Michelle Obama, and it was incredible if you're looking for a HUGE bestseller to try on audio 🙂
You are invited to the Inlinkz link party!