This was another great reading month. I know I say that most months, but I really feel like I am enjoying many of the books I've read in the past 18 months. Being active on Goodreads and interacting with other readers has really helped me to learn which books are worth my time and which just aren't (at least not right now!) There have been a lot of days this summer that I've struggled to find time to read (some nights I am just WAY too tired at the end of the day), but I am buckling down in August to finish up some book challenges and return a bunch of library books on their due dates!!! Speaking of book challenges, I'll be posting an update to those later this week too just for my own reference 🙂
In the spirit of summer reading, I'm linking up with Steph and Jana for their monthly Show us Your books post, which is one of the best days in a book lover's month (in my opinion!). I can't wait to see what other people have been enjoying this summer. Here are some of my recent reads, with reviews linked to Goodreads:
The Goose Girl by Shannon Hale
My rating: 5 of 5 stars
One of the best fairy-tale retellings I've read in a long time. I really, really enjoyed this book and the characters were sweet. Reading it made me feel the same as I did when I enjoyed The Lunar Chronicles last year (they are quite different but I felt similarly). I look forward to reading the others in this series as well as Shannon Hale's Newbery winner, Princess Academy. A few weeks later, I'm still thinking about this book a lot and that is a sure sign of enjoyment. One thing I didn't mention that I really loved was that I wasn't familiar with this story beforehand (the fairytale it is based on is not as famous as others) and that really allowed me to enjoy it for what it was: a wonderful and magical story.

The Thirteenth Tale by Diane Setterfield
My rating: 3 of 5 stars
I'd say this is 3.5 and close to 4 stars. I enjoyed it, but it also felt long and I was anxious to find out how it all happened. Although the writing was beautiful at times, I think I just didn't have the attention span for it at other times. I was really intrigued by the story and I definitely did not see the ending coming, so it had that going for it. It reminded me in some ways of Kate Morton's The Distant Hours, although I preferred that book to this one (right book at the right time? not sure). I'd also agree with reviewers who recommend this for fans of Jane Eyre & Wuthering Heights – it definitely has that gothic feel to it.
To Have and to Hold by Lauren Layne
My rating: 3 of 5 stars
2.5 stars – this book was cute and I enjoyed all of the characters enough. Apparently I really enjoy romance novels about independent women and rich bachelors in Manhattan. Shocking, no? I think a lot of people would enjoy that set up! haha. This book felt like a pretty quick and fun summer read and I appreciated it for what that was worth. Thank you to Netgalley for providing me with an advance copy of this book. Looking forward to the next in the series.

Garden Spells by Sarah Addison Allen
My rating: 3 of 5 stars
I totally loved this book from the beginning, but the ending happened a little bit too quickly for me to give it higher than 3 stars. There was one thing that I dreaded happening throughout the book and it got smoothed over just a bit too quickly for me. However, the magical realism was fun, and I really liked the underlying message of being true to yourself and honouring your own gifts. Plus, all of the food (magical or not!) sounded delicious. The sister bond, the love stories, and the adorable kid were all just part of the fun of this book. It won't be my last by Sarah Addison Allen.
View all my reviews

Northanger Abbey by Jane Austen
My rating: 4 of 5 stars
Although I 100% enjoyed this book and especially the Tilneys, it wasn't my favourite Austen of those I've read so far. I guess when I finished I just felt like not much happened in the plot compared to her other books I've read. Maybe because it was a bit shorter? Of course, I still really enjoyed it though and it had a slightly different tone that was quite fun to listen to. I also found it easier to keep track of all the characters. Some of the characters were downright humorous and I really liked that. I only have one more Austen book to go!! (Mansfield Park)
The Brutal Telling by Louise Penny
My rating: 4 of 5 stars
This was the first of Louise Penny's books that I listened to on audio. At first, I wasn't sure how much I'd enjoy it in that format, but it grew on me. I think I still missed things here and there in this version, but the story was a good one. It left off with quite the cliffhanger in some ways, and there was A LOT of emotion in this installment in the series, so I am pretty antsy to continue with the series once I finish up some summer reading challenge books.
The Mother Letters: Sharing the Laughter, Joy, Struggles, and Hope by Amber C. Haines
My rating: 3 of 5 stars
This book was quite lovely. I love the fact that Mr. Haines created it for his wife and that she expanded it into this book. Motherhood, especially first-time motherhood, can be a lonely thing to experience. In many ways, the Internet & "mom groups" can make this better, but it can also make it worse if you are constantly comparing yourself to other moms or comparing your baby to other babies. These letters talked about many different experiences, and I found them quite interesting. Some had humour, and others were tear-jerkers. This is a wonderful collection and would be a lovely gift for a mother in your life. There is some beautiful advice, and these letters will definitely have you nodding in agreement at the paradox that is loving being a parent and needing a break from it all at the same time.
Thank you to Netgalley and Revell for providing me with an advanced copy of this book to review.



When Breath Becomes Air by Paul Kalanithi
My rating: 5 of 5 stars
As a longtime Cup of Jo reader, I had heard about Joanna's brother in law's battle with cancer via her blog and read his essays and heard about his book there too. I waited quite awhile to get it via the library, and I was NOT disappointed. This book was absolutely gripping and so heart-wrenching. The stories that Paul shares are inspiring. His views on life and death are so interesting and this is a book that will really make you think about how you want to live your life. The epilogue led to tears streaming down my face while driving. It was an incredible read and I would highly, highly recommend it. I especially enjoy books like this (memoirs) in audiobook format because it feels like the author was telling a story the entire time (honestly, I forgot that there was a narrator who wasn't Paul Kalanithi himself).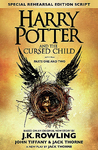 Harry Potter and the Cursed Child – Parts One and Two by J.K. Rowling
My rating: 5 of 5 stars
I definitely have a lot of thoughts about this one, so if you aren't a fan, feel free to just skip this paragraph!!!! There are also (maybe) some very minor spoilers if you haven't read it – but nothing really that hasn't been said in the media.
I really tried my best to read this one slowly and savour it because I knew my expectations for it were so high, but I couldn't help myself and finished it in less than a day. It was quicker to read in play format, and was comparatively shorter than the last few HP novels. I wasn't sure how I would feel about reading this in script form, but once I got used to it, I did actually quite like it. Did it feel like reading a Harry Potter book? Maybe not, in some ways. It definitely lacked the prose and detail of J.K. Rowling's novels, but I don't think it's necessarily fair to compare it in that sense. I also feel that some of the magic of this story was lost in the pages and would be more evident in seeing the live play or even in a movie. HOWEVER, as you can see, I loved the story and have rated it 5/5 stars. Due to my own extreme Harry Potter bias, I can tell you that simply revisiting some of my favourite characters after 10 years would have likely led me to rate this 5 stars without even reading it. haha. However, I enjoyed this as a parent myself, I enjoyed the new characters (especially Scorpious!), I enjoyed the time travel aspect, and Ron and Hermione. There was a major plot point near the end that I really second-guessed and will need to re-read book 7 soon to see if it's actually a possibility or if it was made up, but all I can say is that I am dying to read the books again (3-7 since I just read the first 2 again last month). If you are a Harry Potter fan, you will probably enjoy reading this just to reconnect with the characters. I can honestly say it was not (and will never be) my favourite in the series, because it really isn't a part of the original series.
As You Wish: Inconceivable Tales from the Making of The Princess Bride by Cary Elwes
My rating: 4 of 5 stars
This book was SO enjoyable to listen to on audio with many cast members adding their thoughts to Cary Elwes' narration. The behind the scenes stories and discussions about everyone's feelings during the shoot and the camaraderie they experienced was heartwarming and fun to hear about. If you are a fan of The Princess Bride, I'd highly recommend this audiobook. I am dying to watch the movie again now & I fully plan to do so this weekend!!!
I have about 4 books on the go this week (again, why do I do that to myself?! It's so weird!!) and I'm working on finishing up the Semi-Charmed Summer Reading Challenge by next week and moving on to read some more books in Erin's challenge 🙂 It's difficult in a way to try to balance finishing up library books that I can't renew (because they are requested) and wanting to just sit and read more Louise Penny and books that I own…BUT I'm not complaining. Just loving having books to read 🙂