It's the best time of the month: Show us Your books day with Steph and Jana! Everyone should head over and wish Steph a happy birthday (tomorrow!) and link up to share all of their favourite reads with her 🙂 Happy birthday eve to one of my favourite bloggers!!
Some parts of this month were so BLAH for reading for me and you'll see that reflected here. I just didn't have any books that were so compelling that I wanted to carry them around with me and read them every possible second. But you know what? Real life can't always be super exciting. One thing I also did was start plugging in my phone for the night ACROSS the room so that I wouldn't put down my book to go and check social media. This was helpful. haha. I had a lot less commute time (i.e. best reading time!) this month because some co-workers were commuting with me and also because of all of the snow days we had. Funnily enough, I felt kind of the same in February 2016.
Anyway, I can't heartily recommend all of these books (such is life!), but here are my thoughts on them nonetheless: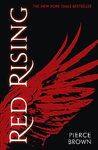 Red Rising by Pierce Brown
My rating: 4 of 5 stars
It took me forever to get into this book, which surprised me because I had anticipated reading it for a long time after hearing others rave about it. Once I got partway through, the plot moved along quicker and I was all-in. I will definitely read the others in this series as soon as I get a chance…need to know what happens to Darrow moving forward!!!
I'd say that the comparisons to The Hunger Games and Ender's Game are spot on for this one overall but there are quite a few distinct differences too (obviously). Bottom line: if anything you hear about this book draws you in, read it. It is worth it.
Sign of the Cross by Anne Emery
My rating: 4 of 5 stars
This was my choice for Erin's book challenge for a book set in the city you live in. I never would have heard of this book otherwise, but it was really good!!! I don't know if I'd ever read a book set in Halifax before, but it was pretty fun picturing everywhere that these events took place (although some places were fictional, I assume). The book drew me in right from the start, and I enjoyed the characters and their range of occupation: the two main characters were a lawyer and his family and a priest. I had a guess or two about the solution to the mystery, but it played out differently than I was guessing. I think I'll definitely pursue the others in this series sometime just because I enjoyed the writing, the characters, and especially the setting and description of it.
The Wonder by Emma Donoghue
My rating: 3 of 5 stars
This book definitely held my interest for the most part, and the story was unlike what I have been reading lately so I appreciated that. The revelation near the end was not quite what I expected, so I enjoyed the suspense of it. It's definitely not for everyone though, and I found parts of it to be a bit slow. Even as a lifelong Catholic I found the religious aspect a bit over the top, but it was absolutely quite true to that time and location in history (just felt weird reading about it in the present day).
Beauty and the Beast: Lost in a Book by Jennifer Donnelly
My rating: 3.5 of 5 stars
I loved this because it was fun to be in Belle's world, and the story within a story was interesting. All of the characters in the Beast's castle were fun and this really made me excited for the upcoming movie. It was definitely very YA, but if you're a fan of the story, this might be a great variation to check out. Parts of it are quite true to the Disney movie. 4/5 for enjoyment, 3 for the writing. PS: Not to be superficial but isn't the cover SO gorgeous?!
When All The Girls Have Gone by Jayne Ann Krentz
My rating: 3 of 5 stars
I enjoyed Secret Sisters last year, and this one was even better, in my opinion. Parts of it were a bit predictable and unbelievable, but it was quite quickly paced and I read it over a couple of days to find out what was happening. It definitely passed the time quite nicely and I would recommend it if you like mysteries that aren't overly gruesome and have some romantic elements on the side.
Tell Me True by Ally Blake
My rating: 3 of 5 stars
Cute characters in this story. I read it in one sitting when I was home alone one Friday night with a glass of wine, and I can honestly say that it was so enjoyable to just lose myself in this book for a few hours. Sometimes you just need that experience. It wasn't overly memorable or new, but it was fun.
You Had Me At Hello by Mhairi McFarlane
My rating: 3 of 5 stars
I had high hopes for this book, but it honestly fell a little bit flat for me. Usually I really enjoy this type of story, but the ending just came about too quickly for me and parts in the middle weren't enjoyable. Overall, it was an okay read but just no what I was expecting and a bit too contrived.
Recent Favourite Kid Reads:

Just in case you're looking for something to read with the younger people in your life 🙂 Here are some of the chapter books and picture books our family has enjoyed lately:
Clover's Luck, The Enchanted Egg, The Missing Magic by Kallie George
My rating: 5 of 5 stars
We loved this series 🙂 It was approachable, interesting, and fun. My 5 year old loved all of the magical animals. I felt like it was a little bit of a (much simpler) intro to the magical world and maybe a bit of a stepping stone between Magic Treehouse and Harry Potter. LOVED it.
I Haiku You by Betsy E. Snyder
My rating: 5 of 5 stars
These short poems are adorable and my kids love this book.
I Carry Your Heart With Me by E.E. Cummings
My rating: 5 of 5 stars
The only thing more adorable than this book is hearing my almost 3 year old "read" it aloud. Seriously. SO cute. I also learned how much my husband does NOT love poetry when we had this book out from the library. LOL. Or maybe just e.e. cumming's poetry, which I find quite adorable. 🙂
Step Outside by Doretta Groenendyk
My rating: 5 of 5 stars
This book has an awesome message and the words and pictures are lovely. We especially like all of the "magazine clipping" hidden words on some of the pages. We really enjoy this author and have read all of her books.
In a Blink by Kiki Thorpe
My rating: 3 of 5 stars
This was a fun read and would be a great chapter book for girls who already love the Disney fairy world. My daughter enjoyed it but we haven't pursued the rest of the series yet.
Finally, I was so sad to read about Amy Krouse Rosenthal's death yesterday at age 51 from ovarian cancer. She recently wrote this piece for her husband as she was dying, which broke my heart. She also wrote a lot of our favourite children's books including Little Pea, Plant a Kiss, and I Wish you More.
______________________________________________________________________________
I spent a large chunk of time listening to The Count of Monte Cristo this month, which is still enjoyable but SO long. I am almost at the halfway mark of the 50 hour audiobook. WOW. It's another book I wouldn't necessarily recommend unless the classics are your thing (they're not always my thing but I like to challenge myself every once in awhile). I will say that the writing and the plot are quite intriguing and I'm not having quite as much trouble remembering the characters as expected…although the jumps to time periods in the future between chapters threw me for a loop and I felt compelled to consult SparkNotes. #readingforpleasure lol. I will say I bumped this book up to 1.85 speed on Audible and I am flying through it (not really) a bit faster now.
Also currently reading The Girl Before (SO intense!!) and The Little Book of Hygge.
What have you read lately? Anything good?? I can't say that I am in need of a lot of recommendations because my TBR list has exploded this year so far BUT I love hearing what everyone else has enjoyed lately!!!