After a wonderful reading month last link up, this one fell a bit short although I did enjoy MOST of what I read. I think I just spent less time reading and I started a bunch of books that took me a long time to finish. I often have 2 on the go at once but I think at one point this month I had about 5 on the go at one time, and that was a bit stressful to me (so then I stopped it, finished one before moving onto another…reading should NOT be stressful, haha). I just felt a bit like my reading attention span was all over the place. But, it was summer, and vacation for me at this stage of life means kid priorities even though there were relaxing moments too.
Here's what I read since last link up with Steph and Jana. Check out their blogs today & find yourself some great recommendations from all of the bloggers who link up!! This is by far one of my favourite link ups out there 🙂
Emma by Jane Austen
My rating: 5 of 5 stars
I had read this before but re-read it for my personal "read all of Jane Austen's books in 2016" challenge. I read it half on audiobook via Librivox and half print. This is such a fun Austen novel although I don't find (most of it) as romantic as her others since it really just happens near the end. It's such a fun story with Emma though, who has a great personality, especially in that era. I'd highly recommend this if you haven't read it yet and the movie with Gwenyth Paltrow is also cute.
Sense and Sensibility by Jane Austen
My rating: 5 of 5 stars
Love, love, love this story. Elinor Dashwood is one of my favourite Austen characters. The audio version with Elizabeth Klett via Librivox was superb. I need to re-watch the movie now. I read this one for the Semi-Charmed Summer Book Challenge & I had it on my shelf for Erin's read your books challenge.
Things I Would Say: Essays, etcetera by Alyssa Ammirato
My rating: 4 of 5 stars
Loved this collection of beautiful words. It felt very personal and I appreciated that a lot. I bookmarked a few favourites & highlighted many lines! I think that anyone who has ever felt passion, loss, or change would enjoy this read.
Lady Susan by Jane Austen
My rating: 4 of 5 stars
I read this in one sitting before seeing Love & Friendship. This is a hilarious novella by Austen and so different from her novels. I found the epistolary style quite different but really enjoyed the style. It wasn't as polished as her novels, unsurprisingly, but it was quite funny and Lady Susan is quite the character. The movie was also really enjoyable and Kate Beckingsale was fantastic, in my opinion!
The Happiness Project: Or Why I Spent a Year Trying to Sing in the Morning, Clean My Closets, Fight Right, Read Aristotle, and Generally Have More Fun by Gretchen Rubin
My rating: 5 of 5 stars
It took me awhile to read this book because I was enjoying absorbing all of Rubin's fantastic stories and pieces of advice. This book was better than I even expected it to be, and I went into it with high expectations after following along with Gretchen Rubin for the past year. I am so looking forward to beginning my own Happiness Project and I have already started to implement some of her own advice into my everyday life with great success. I am also dying to read Better than Before and find out which tendency I am 🙂
This book is inspiring and so quoteable if you are looking to make any positive life changes but aren't sure where to start or where you could improve. I love that it includes so many little things you can do to make life better without any assumption of not being happy as is. I read this one for the Semi-Charmed Summer Book Challenge.
The Duke and I by Julia Quinn
My rating: 4 of 5 stars
This is such a cute series and I can guarantee that I will make it through all of the Bridgerton stories by the end of the year. They are easy, lighthearted reads that just bring me a lot of happiness. I love reading books from this era and I love the happy endings. 4/5 purely for the enjoyment factor. I read this in a day and smiled throughout, but especially loved the ending.
The Viscount Who Loved Me by Julia Quinn
My rating: 3 of 5 stars
3.5/5 stars. This particular story wasn't as good as the first, in my opinion, but it was still cute and the characters were interesting. I can't wait to see who the other Bridgertons all end up with.
A Rule Against Murder by Louise Penny
My rating: 4 of 5 stars
This was a particularly strong book so far in this series. I enjoyed the setting quite a bit and really had no inkling as to the killer, as in other books. It was nice to have Reine-Marie in the book a bit more and to learn more about Gamache's family history as well as Peter and Clara's family. The characters in this one were mainly new and quite intriguing. I read this one for Erin's Challenge.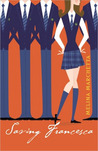 Saving Francesca by Melina Marchetta
My rating: 3 of 5 stars
3.5/5 I really enjoyed many aspects of this book but sometimes reading a YA novel amidst a bunch of literary fiction/adult classics makes it fall a bit short for me. HOWEVER, I loved the way Marchetta approached depression in this one, particularly how it affects loved ones, and I enjoyed the family dynamics. The Italian part of it was fun. The friends were fun. The school setting was more unique than most typical high schools, and that was fun to read about. The characters were quite funny. There were some sad moments, and hopeful moments. I am looking forward to reading the sequel, The Piper's Son, for my Erin's book challenge and I am certainly glad I read this one first.
Also read this month: 7 Magic Treehouse books with Molly, And Harry Potter 1-3 on audiobook! ❤
Currently reading: Northanger Abbey for Erin's challenge (audiobook), The Goose Girl for the Semi-Charmed Challenge, The Grand Sophy (put it down and need to get back to it!) and Endgame, my aunt's book.
Thanks for hosting such a great link up, Steph and Jana! I look forward to reading about everyone else's summer reading.
Is anyone else eagerly anticipating two books at the end of this month? I am, of course, referring to Harry Potter and the Cursed Child and Truly, Madly, Guilty. 🙂 I can't WAIT to get my hands on both of those books. 🙂