Linking up with Steph and Jana today for Show us Your Books!! My reading was alllll over the place this month. I am not a person who does a lot of reading on vacation (when I am on a vacation with my children, at least) because I am 100% exhausted all the time and cannot keep my eyes on a page. So that was August in a nutshell, but I got back into it after we got home and here are a few of the books I liked this past month!! 🙂
Josh and Hazel's Guide to Not Dating by Christina Lauren
My rating: 4 of 5 stars
This book was exactly what I've come to expect from Christina Lauren and it was hilarious, charming, and fun to read. I love their writing and characters 🙂 Hazel was so much fun and I think all of us might wish we could be as much ourselves as she is.
The Secret, Book and Scone Society by Ellery Adams
My rating: 4 of 5 stars
This book was a fun cozy mystery and the first in a new series although Adams has written tons of other books too. I really liked the friendships that developed in this book and the setting as well as ALL the bookishness! The mystery itself didn't captivate me as much because I'm more used to fast-paced thriller mysteries, but I still enjoyed this one. All the talk of scones also made me just a little bit hungry…haha.


Lies by T.M. Logan
My rating: 4 of 5 stars
I had expected this to be quite an intense and wild ride based on the synopsis and I was not wrong. This reminded me a bit of the "ahhh what the heck is going on here?" seen in novels like Gone Girl though it's completely and totally different. I truly felt for the main character here who was quite naïve but that seemed to suit him well. Highly recommend if you are looking for a fast paced unputdownable psychological book.
Thanks to St. Martin's Press and Netgalley or the ARC of this book which is being published today.
A Duke by Default by Alyssa Cole
My rating: 4 of 5 stars
I think I liked this one a bit more even than the first in this series, partially because I listened to half of it and the audiobook narrator did fantastic accents which made this sooo loveable! I really enjoyed the development of Portia's character although the ending felt a bit rushed (i.e. with her sister etc). I can't wait to continue this series because it has been so much fun so far. Plus…helloooo gorgeous covers!!!
The Governess Game by Tessa Dare
My rating: 4 of 5 stars
This was such a great historical romance, so I need to go back into Tessa Dare's other works and devour them sometimes. I really liked the first in this series and this one was wonderful too (although I do feel that they sort of stand alone too). I loved the children in this book and the way that Amelia could relate to them. I loved them as a couple. I enjoyed the setting and the glimpses of the other friends from The Duchess Deal. This passed the time very pleasantly overall 🙂
Thank you to Edelweiss and Avon for the ARC of this book.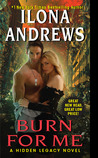 Burn for Me by Ilona Andrews
My rating: 4 of 5 stars
Kristen has consistently professed her undying love for this author and this series in particular, but it had been on my back burner for awhile this year. Finally I couldn't resist it any long and I've definitely drank the kool aid now. I will absolutely be making my way through the rest of this series asap. The world building is fascinating here, not too intense or difficult to understand, but SO interesting. The characters are SO well done, and I love Nevada as a strong female lead and her family standing behind her. This book really reminds me of something else that I haven't quite been able to put my finger on yet, but I really, REALLY liked it. This cover basically does nothing to describe the book either, FYI. Alexandra, you will like this series too so get to it!! 🙂
This Is Day One: A Practical Guide to Leadership That Matters by Drew Dudley
My rating: 4 of 5 stars
This wasn't my first time reading about leadership – but it was certainly the most interesting time. I took entire courses on training and leadership during my Master's degree, but this whole system is revolutionary, approachable, and applicable to anyone – NOT just CEOs or managers.
Drew Dudley's fun and conversational tone in this book and his ability to share personal anecdotes and other stories definitely illustrated his message in a unique and highly readable way.
I don't always turn to non-fiction in my reading life, but I am so happy that I picked this up and I would highly recommend it to anyone looking for some extra motivation to start your own day one and live life to the fullest, regardless of who you are or where you hope to go.
Drew Dudley's Ted Talk is also excellent and a good place to start if you are wondering if this book is for you. https://www.ted.com/talks/drew_dudley…
Thank you to Netgalley and Hachette Books for the ARC of this book. This book first came onto my radar because he is a friend of a friend – I am so pleased he is getting the recognition he deserves in this field!!!
Tiffany Blues by M.J. Rose
My rating: 3 of 5 stars
This book sat on my kindle for quite awhile before I got to it. I'm still not really sure what genre to classify it into – I guess historical fiction overall, but not a time period I often read about. It reminded me a bit of Rules of Civility and The Great Gatsby which makes sense because it is set in that time period in New York area. Overall, I really liked this even though it fell a bit flat in some parts. I would recommend it – the whole background of the Tiffanys was very cool and the mystery part was interesting too. 3.5/5 stars.
Thank you to Netgalley and Atria Books for the ARC.

Always and Forever, Lara Jean by Jenny Han
My rating: 4 of 5 stars
After watching To All the Boys I've Loved Before on Netflix, I devoured this final book in the trilogy. To me, it wasn't quite as good as the first two just because it had a different tone, but I understand why and I still loved it. Lara Jean and Peter Kavinsky are some of my favourite characters of all time.
Love and Other Words by Christina Lauren
My rating: 4 of 5 stars
This book was decidedly less funny than Christina Lauren's others books I've read so far, but I loved it nonetheless. I did have a few minor issues with it, but I loved the closeness of their friendship and the ending completely wrecked me. This was book was intense emotionally but I liked the writing a lot.
Ignore It!: How Selectively Looking the Other Way Can Decrease Behavioral Problems and Increase Parenting Satisfaction by Catherine Pearlman
My rating: 5 of 5 stars
This book came highly recommended from two parents I admire and it has absolutely changed the way I think about parenting. We haven't succeeded 100% with implementing the ideas presented here yet, but we are working on it. I think it will be a great fit for our family.
This month, I also read Kiss the Girl and I hate you, I Love You which I had received on Netgalley and I didn't enjoy them enough to write more about them.

TL;DR: I recommend Lies, Josh & Hazel, the entire Lara Jean trilogy, Burn for Me (if that genre is your thing), Ignore it! if you are looking for some parenting advice, and This is Day One if you like non-fiction with great anecdotes.

Currently reading: a few books from Netgalley (still working my through a backlog there) including Girls Night Out, Undue Influence, and The Proposal.